 The Ultimate Retail Co-Marketing Guide for Marketers
What Is
Retail Co-Marketing?
Retail co-marketing occurs when a brand partners with a retailer to strategically market together. This arrangement helps both the brand and retailer amplify their voices to increase market strength, improve customer awareness, and engage the customer through a larger part of their path to purchase.
---
Why is Co-Marketing with Retailers Important?

In retail co-marketing, the brand and retailer present a united front to the consumer. Because both parties are working together, neither overshadows the other. Instead, the brand and the retailer unite to better service the customer, which ultimately helps everyone benefit from the relationship.
The benefits of retail co-marketing
Builds strong relationships with retailers
Grows business within your existing market
Introduces your brand to customers
Keeps brand imagery consistent
Both Sides Benefit
The brand benefits because the retailer now has an incentive to treat these products as a priority, resulting in increased consumer brand recognition. The retailer benefits because the brand pushes its customers toward that retailer. By working together, each side gains something valuable.
Motivating Consumers Across the Shopper Journey
Typically, the brand and retailer speak to the consumer at different stages of the customer journey. In a co-marketing relationship, though, each party has more customer touchpoints along the path to purchase, helping both sides get in front of shoppers more often than they'd be able to on their own.
Fostering Better Retail Relationships
Co-marketing helps brands stand out from other products because brands usually provide the retailer with marketing assets. This helps the brand ensure it is properly represented by the retailer; it also makes it easier for the retailer to sell the brand's products. Once the brand sees that the retailer is willing to use these materials, it knows that its customers will get the right information. This cooperative use of marketing assets also helps build trust between the brand and the retailer.
Introducing the Brand to New Customers
The right co-marketing arrangement can encourage a retailer's loyal customers to view the brand in a new and favorable light. This expands the brand's customer base while increasing customer satisfaction for the retailer. At the same time, those loyal to the brand may visit the retailer's store or website and become a fan of the retailer as well.
Standing Out in a Crowded Space
Without co-marketing, a brand's products are treated the same as every other product. Thanks to co-marketing, brands are able to increase their profile with both retailers and customers. It's a great way for brands to demand and receive the attention they deserve. For retailers, it makes retail marketing easier because the brand assets are already provided.
Different Kinds of Retail Co-Marketing
and Their Benefits
Before we deep-dive into co-marketing, let's take a moment to differentiate co-branding from co-marketing.

On the surface, the two might seem like synonyms. But co-branding and co-marketing are quite different. The main difference is that co-branding focuses on symbiotic relationships between brands and retailers to promote existing products to an existing customer base. In co-marketing, the focus is on expanding into a new product area or consumer demographic.
Retail Co-Branding
Co-Marketing
Using both the brand and retailer's existing markets to support the growth of both businesses.
Partnering with a brand or retailer outside of the usual market to grow awareness and the customer base.
Retail locations look to grow their store sales by using assets and advertising dollars provided by the brand.
Business categories of brands and retailers can vary between partnerships.
Brands want retail locations to use their assets and dollars to promote purchases of the brand in-store.
The brand and retailer share advertising costs to reach the new target audience.
Storytelling by
Unique Selling Propositions
The brand and retailer will always have their own voices, customer bases, and unique selling propositions. It's the logical combination of these unique selling propositions that creates the best co-marketing opportunities.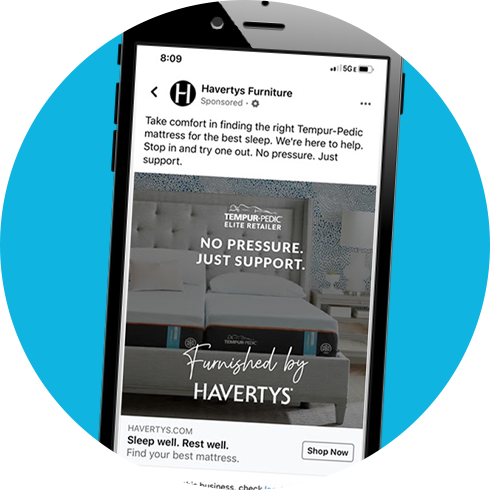 Think Big
Aligning the quality and customer-first mindset of Tempur-Pedic® with the commitment to craftsmanship and customer experience of Havertys gave us the Big Idea to unite those under one concept.
One example of this natural overlap of unique selling propositions occurred when Icon worked with Tempur-Pedic and Havertys to create a co-marketing partnership. We found much common ground in the unique selling propositions of the two parties, which aligned itself perfectly with common customer pain points.
---
Voice of the Customer
Instead of focusing on the brand or retailer's point of view, we told a story from a third-place—the customer's perspective. We placed the focus of the campaign on what the consumer wanted—a pressure-free buying experience and great sleep—and showed how this co-marketingpartnership could help customers achieve their goals.
Middle Ground
Rather than simply putting Havertys' colors on Tempur-Pedic products, we created an entirely new concept that didn't position one brand over the other. Instead, we structured the campaign so that both Havertys and Tempur-Pedic were on equal ground in the customer's mind.
Benefits
Approaching the issue from the perspective of the customer's pain points meant that the immediate needs of the consumer were met right away. From there, it was easy for customers to answer the questions of what to buy and where to get it.
Considerations
The alignment of unique selling propositions is essential for the success of this approach. If the "third place" from which stories are told isn't mutually agreeable, the storytelling will fall flat, and the brand and retailer won't be able to appeal to the customer as naturally. Additionally, brands must provide retailers with the right assets to effectively tell their story. Failure to do this can lead to the retailer misrepresenting the brand, thereby negating the entire premise of co-marketing.
Creating Experiences and Products

Through Collaboration

A brand can work with a retail partner to create a customer experience that surpasses anything the brand could put together on its own. This gives the brand a chance to reinforce its message to its consumers while simultaneously leveraging the power of an established retailer.

Diehard sneaker aficionados love their footwear, but they're not as enthusiastic about the same old buying experience at their usual shoe retailer. To give their customers something extra, Nike partnered with Nordstrom to create pop-up boutiques. The idea was to create a special buying experience with additional selection and service, while cementing Nordstrom's reputation as a forward-thinking retailer.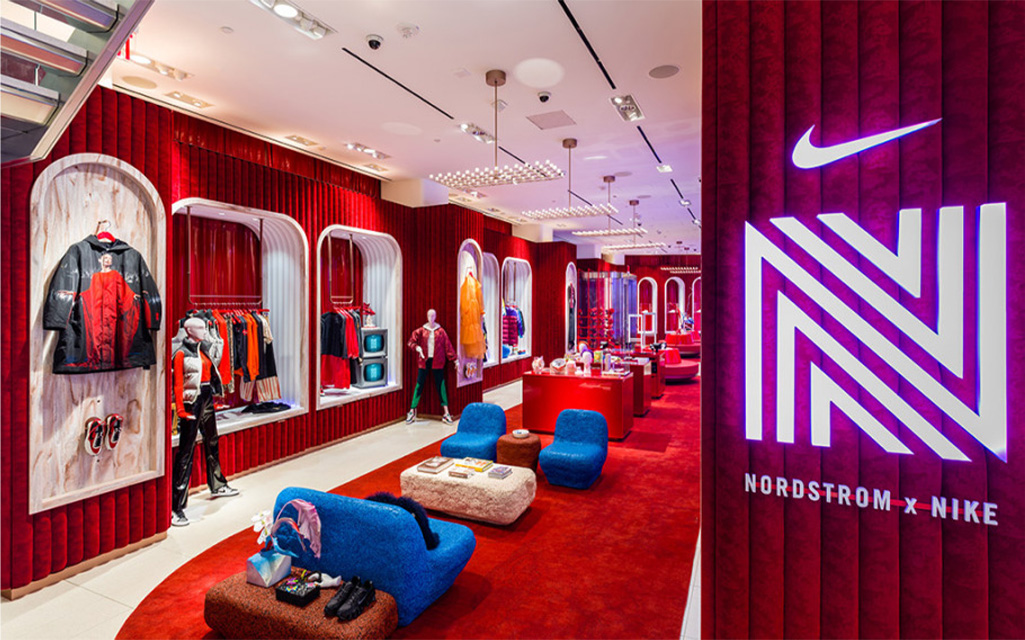 "The idea was to create a special buying experience with additional selection and service while cementing Nordstrom's reputation as a forward-thinking retailer."
Source: https://footwearnews.com/2019/business/retail/
nordstrom-nyc-nike-sneakers-store-olivia-kim-1202860134
Cross-Promotion
Nordstrom is able to promote their unique selection of Nike sneakers and apparel, while also highlighting select goods from other departments in the Nordstrom store. This exposes Nike fans to aspects of Nordstrom that they would otherwise be unaware of.
Something Special
The pop-up boutiques are centered around new product launches, seasonal campaigns, anniversaries, and brand initiatives. This gives each boutique a unique, can't-miss feel—something that can't be captured by simply ordering online.
Benefits
By leveraging a vertical alliance between brand and retailer, co-branding can create a new audience interested in both. Nike fans may be inclined to check out a Nordstrom store after visiting the boutique, while Nordstrom shoppers are likely to give Nike products further consideration.
Considerations
Co-marketing collaborations should be true collaborations. If the brand sells "exclusive" products at other retailers, it can confuse consumers as well as alienate the retail partner. It's also important to realize that while collaborations can take place at the master level, as we saw with Nike and Nordstrom, these collaborations can also occur within subsets of both the brand and retailer.
Creating a Complete Shopping Experience

with Proximity

Retail locations are a prime spot for brand emphasis, and every brand wants to get its name out there in front of customers as much as possible. The right brands are able to create a unique experience within an established retail outlet, boosting their brands within the retailer's existing space.

Although Target and Starbucks are established retail brands in their own right, the two giants have a co-branding relationship that has seen Starbucks cafes built into Target locations. This allows Starbucks to have additional brand exposure, while Target is able to become even more of a one-stop shop for its customers.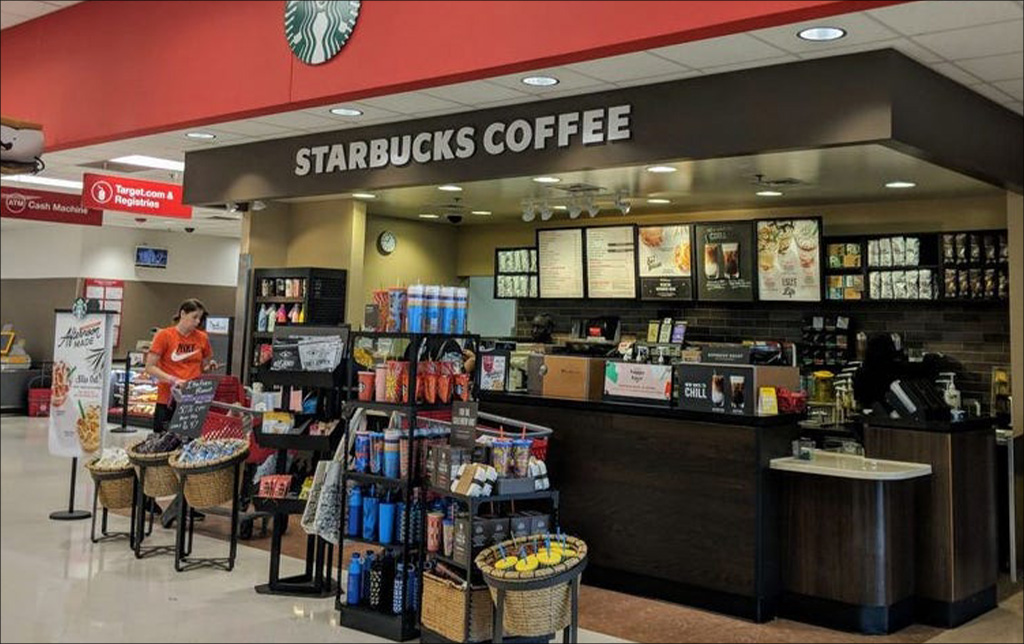 "This allows Starbucks to have additional brand exposure, while Target is able to become even more of a one-stop shop for its customers."
Source: https://www.starbucks.com/promo/target
Enhanced Promotion
Target doesn't just host Starbucks in its stores; it fully integrates Starbucks into the customer experience. Target incentivizes customers to purchase Starbucks drinks by offering exclusive beverages, targeted social posts, and Starbucks coupons within the Target app.
Increased Shopping Time
The presence of Starbucks at Target encourages consumers to spend more time at Target stores. It's also a differentiator for Target; shoppers know they can get everything they need and a delicious coffee treat at Target.
Benefits
Horizontal strategic partnerships such as the Target-Starbucks relationship provide complete experiences. They reinforce the idea that the retail experience isn't complete without the brand experience. As a result, both brand and retailer benefit. They also each benefit from capitalizing on each other's foot and site traffic.
Considerations
A co-marketing marketing campaign doesn't always lend itself to an arrangement such as this. Not every co-marketing relationship is meant to be long-term. Furthermore, retailers with a small showroom or only one product category will have a hard time saturating the shopping experience with the brand's presence. Lastly, the brand must be on relatively similar ground to the retailer, and the two parties must target a similar type of customer. Otherwise, consumers will feel that the retailer is shoving something down the customer's throat that they don't want.
How to Use Co-Marketing
Across the Customer Journey
The idea of co-marketing might sound enticing, but without a concrete plan for how you'll use it, it's a fruitless endeavor. It's critical to understand which areas of your marketing will benefit from co-marketing, as well as what long-term goals you'd like your co-marketing relationship to achieve.
Know Your Customers
Understand your buyer personas. Become an expert on the customer journey and how your unique customers go from strangers to brand advocates. Don't enter a co-marketing partnership without a thorough understanding of your audience and what you're trying to accomplish for them.
Identify Co-Marketing Assets
Assess what resonates with your customer base at each step of the buyer's journey. Take note of areas where co-marketing would be most beneficial—for example, a point at which the consumer would like to test out a product in-store. Know exactly what you want your co-marketing assets to achieve and how you'd like your retail partner to utilize those assets.
Use Co-Marketing Throughout the Entire Journey
The shopper journey varies between industries, brands, and even customer types. While your mix of content and customer touchpoints is uniquely your own, you can still apply the following principles to co-marketing across the entire customer journey.
Co-Marketing
across the customer journey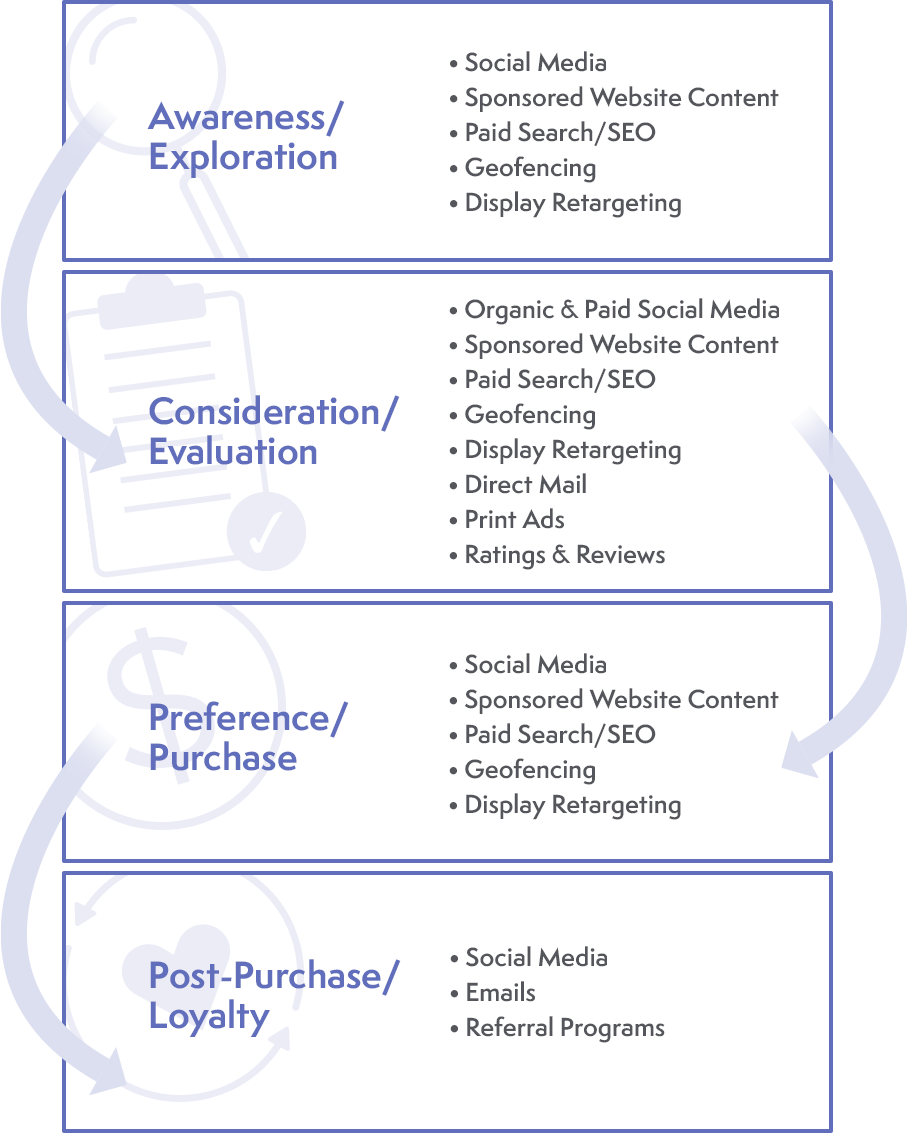 Icon Commerce's Approach

to Co-Marketing

Co-marketing can take your marketing to the next level. But to really get the most out of your co-marketing relationships, consider working with an agency known for creating and facilitating successful co-branding relationships between brands and retailers.

For more than 20 years, Icon has helped well-known household brands with both co-branding and co-marketing initiatives. Our experience working with both brands and retailers will help you identify what to expect out of co-marketing and how you can make your next partnership a great one.
Asset Management
Icon uses creative management and guidelines to maintain consistency in images and assets for both the brand and retailer.
Proper Alignment
We ensure that marketing messages from the brand and retailer are in line with customer pain points, not with self-promotion.
Strategic Planning. We keep your brand in front of consumers throughout the buyer's journey and retail experience.
Clear Communication
Icon facilitates communication between the brand and retailer so that there are no misunderstandings or false assumptions that can derail the relationship.
Retail Education
We work with retailers to make sure they're properly utilizing brand assets. We also show retailers how their sales associates should talk about the brand on the sales floor. Put our insights
to work
Reach out today to see how we can help your business hit growth goals.